Steve Jobs once said, "Technology is nothing. What's important is that you have faith in people, that they're basically good and smart — and if you give them tools, they'll do wonderful things with them. Tools are just tools. They either work, or they don't work." What a powerful statement, isn't it? To understand it better, we can further take examples of current scenarios.
A software update in your phone when avoided for too long, starts to hinder its performance. Human interventions are required to get the tech going. That's what the legend Steve Jobs is trying to explain in the above quote. Human creativity cannot be replaced or be overtaken by machines, ever.
One-stop Solution for All Your Fueling Needs
The world runs on technology today, and with the ever-growing and ever-innovating cosmos, people revel in instant gratification. Right from food, to internet speed, to product deliveries, to every possible thing in the world, we want everything to be fast.
The Fuel Delivery understands this emergence of urgency that is there, majorly to save one's precious time, and sometimes to save one's money. A few years back researchers said that there is a lack of Infrastructure growth that disrupts the nation's economy because of the unavailability of on-time fuel at the manufacturing/production houses, construction sites, and various such sectors. There was a need for a solution to curb the challenges related to fuel.
The Fuel Delivery solves the challenges of managing fuel efficiently and safely, saving your precious time by delivering High-Speed Diesel to your doorstep. We follow strict guidelines prescribed by the Petroleum Ministry & licensed under Petroleum & Explosives Safety Organization (PESO). We contribute to the growth of the Indian economy by offering our diesel delivery services across the nation.
Offering Our Services to One & All
Manufacturing Units:
Managing fuel in an efficient way for the Manufacturing Unit Plant Head is constant stress. If he can manage it on time, then the production goes on smoothly. But, if he is unable to do so, the production slows down and the whole manufacturing unit comes under pressure. They work for extra hours to meet complete the production work. They are two major problems the Manufacturing Unit Plant Head faces:
Over storage of fuel, results in cash blockage
Under ordering of fuel, results in less productivity
The Fuel Delivery is a stress-free resolution for Manufacturing Units. We have made it convenient for the Plant Heads to manage all their fuel requisites by delivering the fastest fuel, just by tapping into the phone. Now they can pre-book the order and get their quality fuel delivered in no time.
Construction Sites:
The challenges that construction site owners face frequently are:
Sending the labor to fetch fuel, wasting the productive man-hours
Difficulty in carrying the fuel in light motor vehicles to the remote areas of the site
Jeopardizing the environment in a way of fuel slippages
We are a robust diesel delivery service system that puts an end to all these challenges by delivering quality fuel to the sites, no matter how inaccessible the area is, we assure High-speed Diesel delivery to your doorstep.
Healthcare Sector:
This industry needs uninterrupted fuel services as they simply can't afford to lose their patients over a power cut. The Fuel Delivery ensures a non-stop service to the healthcare sector across the nation and delivers fuel 24X7. Our selfless support was there even during the times of COVID-19, and we promise to continue so forever.
Resident Welfare Associations:
Power cuts are a huge problem everywhere in India. We face frequent power outages in many cities, especially in summers. This happens because of the unequal distribution of the electricity system in India. Resident Welfare Associations face problems because of this frequent practice. Sudden electricity outages can cause problems like unexpected stoppage of elevators, work, and online classes interruptions, etc.
This is where there is a huge need for a reliable system that can resolve the challenges of the residents. The Fuel Delivery largely solves all these problems by delivering fuel to the doorsteps. Just order or pre-book and you're good to go!
Corporate/Commercial Building:
The gap in the demand and supply of electricity leads to electrical failures and Commercial Buildings suffer a lot because of it. The productivity and work efficiency gets hampered.
The Fuel Delivery supports the Indian infrastructures including corporates and commercial buildings with its efficient diesel delivery services. We make your business run without the stress of arranging fuel. Subject to Government regulations, we endeavor to revolutionize fuel delivery in India, by transporting quality petrol and diesel at the doorsteps.
Common Problems Faced By Various Industries & Their Solution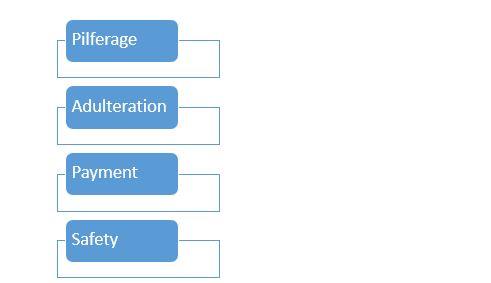 Every person who deals with fuel management knows that these are some unavoidable problems that are commonly faced by different sectors. Pilferage leads to a daily loss of 4-7% fuel and this consistent compromised quantity of fuel leads to a fair amount of monetary loss. Fuel adulteration is yet another problem that mainly the manufacturing industries face. It affects the expensive equipment the most. Not having a Centralized Payment system is yet another issue that creates problems for businesses to clear their payments and they eventually lose control over their finances. Procuring fuel in barrels and canisters is a hazardous task and the safety of the people involved is highly at risk and often compromised.
At The Fuel Delivery, the safety of our customers, drivers, and surroundings is our priority. We follow PESO guidelines, and our drivers are trained in hazardous management. Our bowsers have the best safety fittings like spark arrestor, emergency shut-off valve, fusible link, emergency vent, pressure vacuum valve.
The Fuel Delivery procures diesel straight from the OMCs, and the end-user gets the guaranteed quality and quantity of diesel within no time.